BATHEFEX Epsom Salt Tuberose & Jasmine 1.4kg [BEF202]
Now Only
RM 41.40
Regular Price
RM 69.00
EPSOM SALT TUBEROSE & JASMINE 1.4kg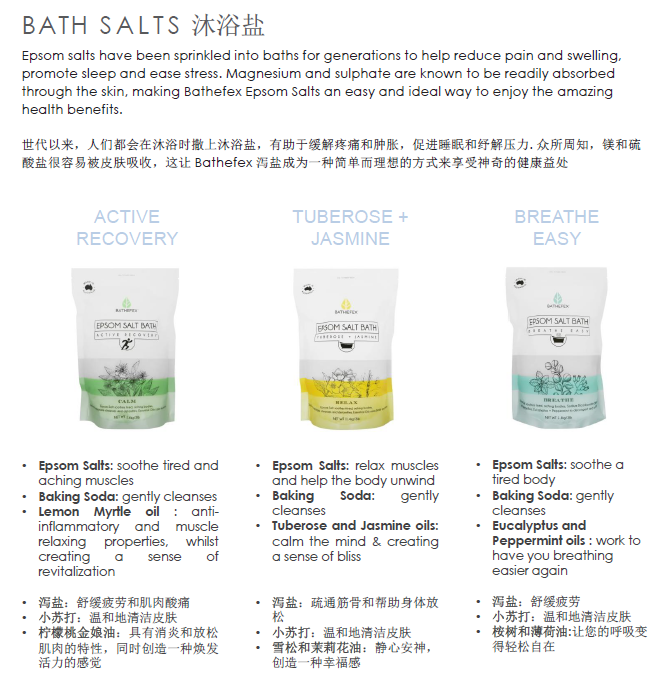 Product Description
When you just want to feel pretty, this beautiful bath blend will transport you to tranquil gardens. Epsom Salts relax muscles and help the body unwind, Baking Soda gently cleanses, Tuberose and Jasmine oils calm the mind, creating a sense of bliss.
How to Use:
For full body mix 2 cups of Bathefex Epsom Salt in warm water and soak for 20 minutes.
For feet mix 1/2 cup of Bathefex Epsom Salt in warm water. Soak feet for 15 minutes and relax with the calming aromas.
For aches, sprains and stings, soothe  the area  by  mixing 1 cup of Bathefex Epsom  Salt in  1  litre (2.1  pints) of warm water. Soak a cloth  or towel  in the  solution, squeeze out excess water. Apply to the targeted area for 5 minutes. Repeat 2 or 3 times.
More Information

| | |
| --- | --- |
| Brand | Bathefex |