BI-ES BLOSSOM HILLS EDP SET (100ML + BODY LOTION 150ML) [YU113]
A love potion that captivates subtly with its aroma. A seductive composition inspired by passion.
It stimulates the notes of the perfume, which is dominated by a subtle note of rose.
Lots of feelings and emotions with a clear memory of cedar wood, a fresh bergamot accent, and a noble blend of patchouli and white musk.

Top notes: gooseberry, bergamot.
Heart notes: pink, peach.
Base notes: musk.
FRAGRANCE NOTES
To achieve a pleasant balance, the notes of the fragrances are classified as musical chords: top notes, heart notes, base notes.
These notes make up the accord of the perfume, they are its personality. Each note reflects the volatility of the perfume, or how fast it evaporates. Top notes fade faster while base notes stay longer.
Perfumers use the olfactory pyramid to represent the fragrance notes of a perfume. Each ingredient is characterized by its degree of evaporation and persistence over time.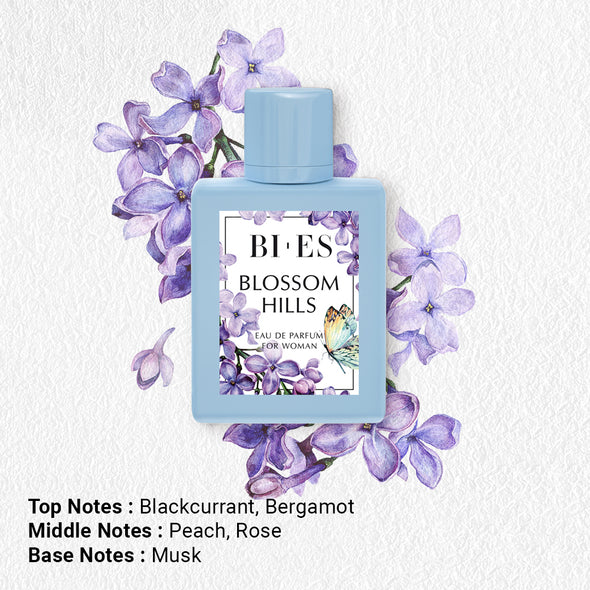 More vivid and energetic, they are the most volatile notes of a perfume. They are felt first, thus marking the first impression you have of a perfume. Being ephemeral notes due to their smaller and lighter molecules, they evaporate quickly. The top notes are carefully selected, creating a soft and pleasant transition to the next part of the olfactory pyramid.
Medium persistence:. 5 – 15 minutes
These are the notes of the fragrance that are perceived when the top notes have faded. They ensure continuity of the top notes and prepare for a smooth transition to the base notes. They are considered as the soul or personality of a perfume, they make up the most important part of it. Heart notes are felt longer throughout the life of a fragrance.
Medium persistence 20 – 60 minutes
Like heart notes, base notes carry the depth and resonance that help structure the foundation of a perfume. These notes appear gradually and gradually evaporate.
Medium persistence 20 – 60 minutes
More Information

| | |
| --- | --- |
| Brand | Uroda |