Out Of Stock
Declare Superfood Goji & Jojoba Peeling Mask 50ml [DC602]
Now Only
RM 59.70
Regular Price
RM 199.00
**No shipping to Singapore**
GOJI & JOJOBA PEELING MASK
Revitalizing cleansing mask with an exfoliating effect for a radiantly-fresh complexion.
An excellent alternative to the classic peel. The revitalizing cleansing mask with an exfoliating effect provides a radiantly fresh complexion in only 10 minutes. It is the "amuse-gueule" of the Powerfood mask cocktails, but also extremely effective used alone.
Apply gently to the cleansed skin. Leave to work for 10 minutes, then apply a little warm water and massage in using circular movements before rinsing off.
Ingredients:
GOJI FRUIT EXTRACT - also known as Chinese wolfberry, is the superberry of the exotic fruits. It provides plenty of antioxidants and secondary plant substances such as quercetin and resveratrol that help to protect the blood vessels and nourish the skin. It is said to have one of the strongest anti-ageing effects of all superfruits. At the same time, its amino acid content soothes the skin and provides intensive moisture for a vital, balanced complexion. It has been used in traditional Chinese medicine for thousands of years to balance a CHI deficiency – low energy, dry eyes, to strengthen the legs and help in many other areas. Its low sugar content makes the goji berry popular as a healthy trendy snack or drink.
Jojoba Exfoliating Products
Kambucha Extract
Kaolin
Bisabolol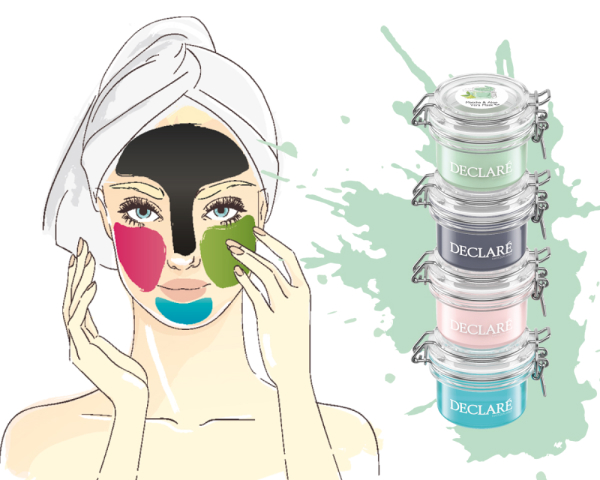 Multi-Masking For Better Results:
Start your individual care pleasure with the GOJI & JOJOBA PEELING MASK.
Then apply the BAMBOO-COAL DETOX MASK, MATCHA & ALOE VERA MASK and/or ALGAE MARINE GEL MASK directly to the various areas of the skin with their own specific care requirements.
More Information

| | |
| --- | --- |
| Brand | Declare |