Declare Superfood Matcha & Aloe Vera Mask 50ml [DC601]
Now Only
RM 59.70
Regular Price
RM 199.00
**No shipping to Singapore**
MATCHA & ALOE VERA MASK
Balancing cream mask for a relaxed, even-looking complexion.
Enjoy the relaxing and balancing effect, the creamy-soft feeling as you apply this product, and the relaxed, fine, delicate fragrance that conveys pure relaxation and comfort.
 Apply gently to the cleansed skin. Leave to work for 10 minutes, then rinse off with warm water.
Ingredients:
ALOE VERA - is known for its moisturising, soothing and revitalising effects. It is full of polysaccharides, enzymes, essential fatty acids, vitamins, minerals and very many other active substances. Genuine aloe vera is a trunkless or very short-trunked plant that came originally from the Arabian Peninsula, and today is also cultivated in and native to the Mediterranean, the Canary and West Indian Islands, India and Mexico. It was first described in 1753 by Carl von Linné. Initially used as a pharmaceutical drug, its juice has proven itself more and more as a soothing and balancing substance in cosmetic use. In this case, the juice that flows when the leaves have been cut off is usually pulverised. Aloe vera juice as a fitness drink is a good alternative for people who wish to boost their health without having to follow a detailed dietary schedule.
MATCHA EXTRACT  -  Contains 10 times as many antioxidants as green tea, and has the highest antioxidant content of any food. That is why matcha is considered an excellent anti-ageing product and good protection against damaging UV rays.
Vitamin C
Vitamin E
Bisabolol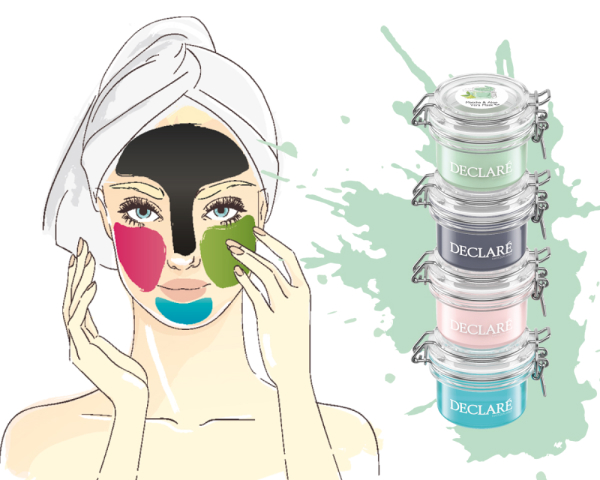 Multi-Masking For Better Results:
Start your individual care pleasure with the GOJI & JOJOBA PEELING MASK.
Then apply the BAMBOO-COAL DETOX MASK, MATCHA & ALOE VERA MASK and/or ALGAE MARINE GEL MASK directly to the various areas of the skin with their own specific care requirements.
More Information

| | |
| --- | --- |
| Brand | Declare |