Isabey Gardenia EDP 50ml [YI201]
Top: Italian Tangerine, Essence of Ylang Ylang, Absolute Orange blossom
Heart: Bulgarian Rose, Jamine, Gardenia, Iris
Base: Musk, Indian Sandalwood Essence, Grey amber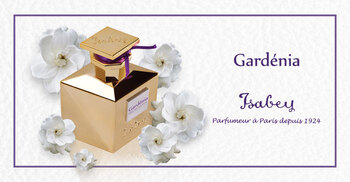 Now Only
RM 594.15
Regular Price
RM 699.00
GARDENIA, Eau de Parfum
Launched in 1926, Le Gardénia is considered as one of the most prestigious of its kind in the world. Among the rarest sixty fragrances in the book "Scentfully Precious" of J-M Martin-Hattemberg, Le Gardénia is known for its distinguished match of bottle drawn by Julien Viard and jewel case-like box elaborated by Sorys.
Isabey Gardenia is the ultimate, splurge-worthy, Rembrandt of Gardenia Scents. Luminous and sensual, this captures the true essence of this bewitching bloom – it feels like holding the glowing white blossom in your hand.
A limited-edition of 1500 pieces of the "Gardenia" pearl – sold out – was produced in 1999 by Panouge. However, in order to satisfy lovers of this great perfume, a natural spray series was launched in 2002. The gold color chosen for this version has become emblematic of Gardenia and therefore kept on the 2017 version.
OLFACTORY DESCRIPTION
Velvety soft, with an embracing warmth, this is a rich, heady, unforgettable floral.
Truly luxurious, Gardénia is the rare Gardenia scent that perfectly captures the very essence of a solitary bloom.
Stunningly true to the flower, the essential oil is made with pure Gardenia extract, with a supporting cast of some of nature's most captivating aromas, including Bulgarian Rose, Jasmine, Ylang-ylang, Orange blossom, Grey Amber and Tangerine bark.
Heady, yet deceptively soft, sensuous and warm, there is no doubt that this is a unique fragrance.
NOTES

Top: Italian Tangerine, Essence of Ylang Ylang, Absolute Orange blossom
Heart: Bulgarian Rose, Jamine, Gardenia, Iris
Base: Musk, Indian Sandalwood Essence, Grey amber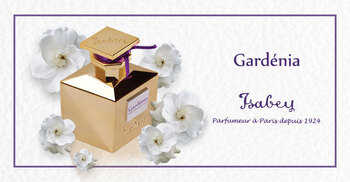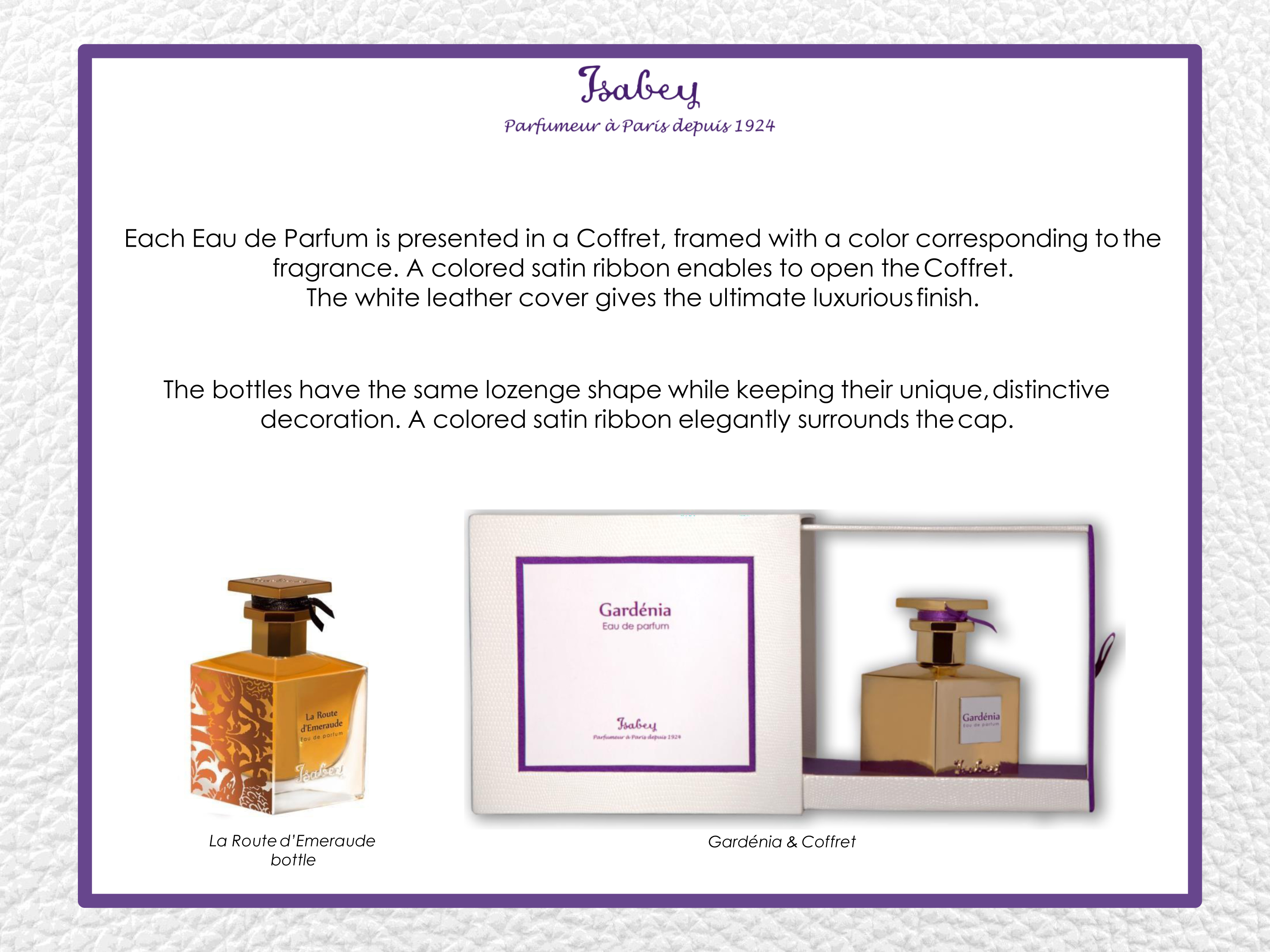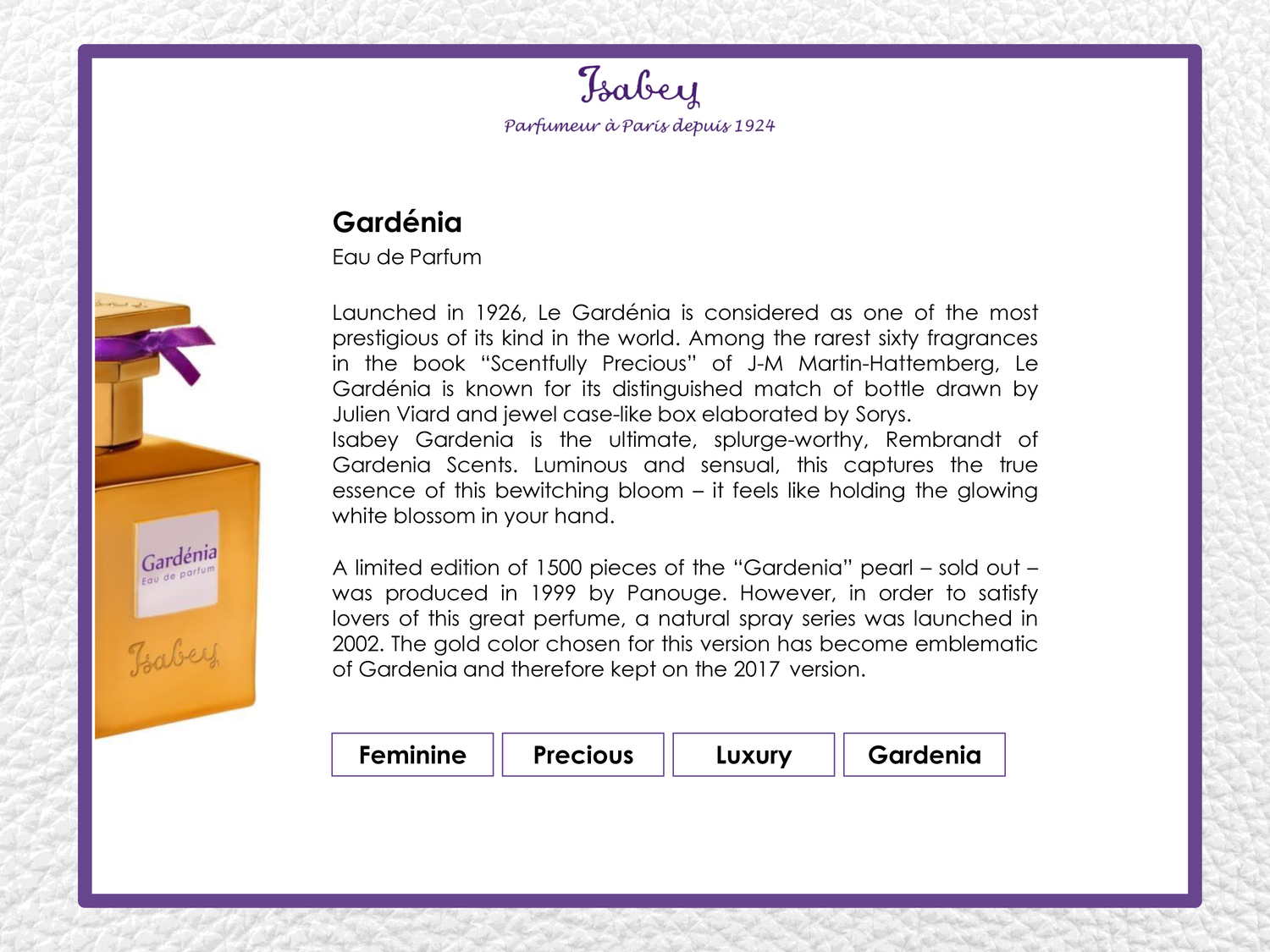 More Information

| | |
| --- | --- |
| Brand | Isabey |