Yellow Color Care Leave In Serum 150ml [YEW565]
Serum ultralight extraordinary serum that seals the cuticles and helps prolong the intensity and brightness of the color. 

Protects hair from external aggressions, such as heat sources and sunrays. 

Contains UV filter. 

Perfect before styling on wet hair or as a finish on dry hair. 
Now Only
RM 62.30
Regular Price
RM 89.00
The perfect ally of colored hair, IN THE HALL AND HOME! 
WITH EXTRACT OF GOJIBERRER TO EXTEND THE INTENSITY AND LIGHT OF THE COLOR. The complete line for color maintenance, Yellow Color Care has been specifically developed to exalt and preserve over time the results of intensity and brightness of each color. 

GOJI BERRY: Originating from Tibet, these berries are considered a long-lived elixir. Rich in vitamins, sugars, minerals and proteins, they help delay oxidation to prolong color intensity. 

AFTER ONE MONTH COLOR AS NEWLY APPLIED * 
EXTENDED LUMINOSITY: MORE THAN 41% AFTER ONE TREATMENT **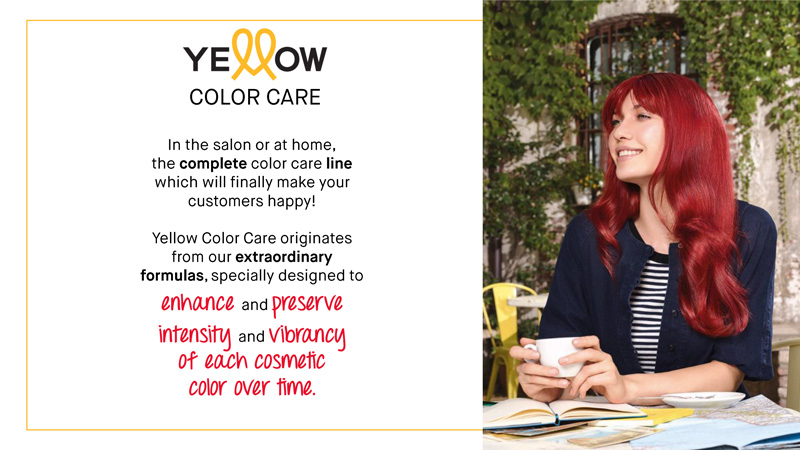 * After 12 washes, the color retains more than 85% of its intensity. Average value calculated by the results of the instrumental tests conducted in the nuances Yellow Color Permanent 5 and 8, with complete treatment Yellow Color Care. 
** Instrumental test conducted in nuance Yellow Color Permanent 7.66, complete with Yellow Color Care treatment compared to treatment with shampoo and base conditioner.
Yellow Leave-in 

Perfect colored hair ally Perfect
Serum ultralight extraordinary serum that seals the cuticles and helps prolong the intensity and brightness of the color. Protects hair from external aggressions, such as heat sources and sunrays. Contains UV filter. Perfect before styling on wet hair or as a finish on dry hair. 

Format: 150 ml
More Information

| | |
| --- | --- |
| Brand | Yellow |