AROUND101 3D Cooling Adult Mask Black Neon Pink - M [AD106]
Now Only
RM 24.43
Regular Price
RM 34.90
3D Cooling Adult Mask
High quality fabric with high elasticity fiber 100% made in Korea!
It is made out of Aerosilver, a healthcare fiber known for its fast-drying and quick absorbing property on top of its powerful anti-bacterial functionality. It also protects you from various harmful germs and odours caused by germs.
Cooling Mask could be one of the most impactful fashion face mask you use. That is especially true if you have sensitive skin, as the excellent ventilation with cool material ASKIN, total perfect for hot & humid weather and—as a result—promote a more radiant-looking complexion.
Basic | Simple | Casual | Stylish | Comfortable 
Excellent fit and excellent water repellance. It can be reuse again after wash!

Advantages:
Quick drying sweat




Absorbs moistures and dries quickly compared to regular cotton mask.
UV protection




99.9% Blocka UVA/UVB from penetrate to the skin.
Antibacterial function




ATB-UV fabric approved by FDA agency for anti-microbacterial growth.
Reusable & Washable


It can be reuse again after wash.



No skin irritation


The soft lining material makes it comfortable to wear.



Cool material even in hot weather


Excellent ventilation with cool material, perfect for hot & humid weather.



Face adhesion


3D design made to fit with face shape and boasts a comfortable fit.


Lining double material
ASKIN - outer lining that allows wide range of differential feels and performances. Offer quick drying, cool touch, UV protection and characteristics with opacity.

AEROSILVER - inner lining that enhanced antibacterial that survives for reusable and washable


Breathability



Amazing resilience




Provide elasticity of returning to its original state with no wrinkles.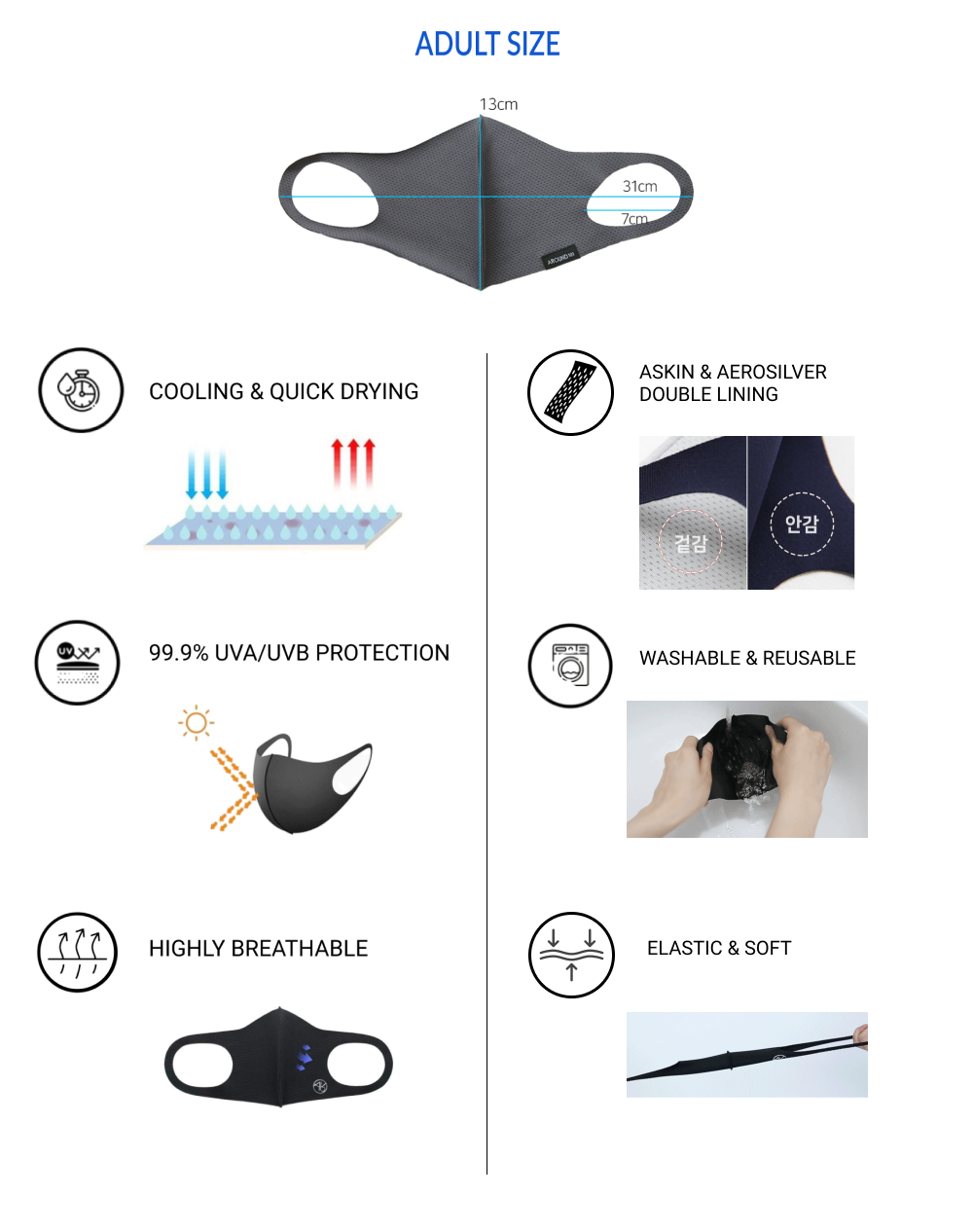 More Information

| | |
| --- | --- |
| Brand | AROUND101 |