Out Of Stock
Schwarzkopf Bonacure New Packing COLOR FREEZE CONDITIONER 1000ml [SCA1802]
-Enables easier detangling and improves combability
-Hair reaches its optimal pH level of 4.5, achieving 90% colour retention for up to 30 washes
-Revives dull, coloured hair Helps to smooth the surface of each strand for brilliantly shiny hair
-Vegan formula**
Now Only
RM 90.30
Regular Price
RM 129.00
Color Freeze Conditioner
A gentle conditioner from Bonacure Color Freeze, specially formulated for porous, colour-treated hair. With no silicones or artificial colourants, hair is easier to detangle and combability is improved. Hair is restored to its optimal pH level to perfectly freeze colour pigments inside the hair matrix, preventing fading for long-lasting hair colour.
Hair Type Bonacure Color Freeze Conditioner is for clients with colour-treated hair that is porous and prone to fading, who are looking for a haircare product to gently condition and protect hair, whilst maximising colour retention.
What it does
Enables easier detangling and improves combability
Hair reaches its optimal pH level of 4.5, achieving 90% colour retention for up to 30 washes
Revives dull, coloured hair
Helps to smooth the surface of each strand for brilliantly shiny hair Vegan formula**
The Science Behind Color Freeze
Introducing an advanced technology featuring Vegan Care Complex + pH 4.5. After colouration, current care technologies mainly seal the cuticle, leaving the matrix structure unattended. This can lead to a lack of resilience, hair breakage and dramatic colour fade. Thanks to patented pH 4.5 Balancer Technology, hair is adjusted to the optimal pH value of 4.5. The matrix around the cortex microfibrils is tightened and stabilised, keeping the colour pigments frozen deep inside the hair structure, providing the ultimate colour protection.
This is Schwarzkopf Professional's 1st vegan colour-locking system for zero fade and long-lasting colour vibrancy. In combination with Vegan Keratin and Cell Equalizer Technology, Bonacure Color Freeze professional hair products ensure that the hair surface is perfectly sealed providing a long-lasting colour protection against external aggressions such as water and blow-drying. The range provides up to 90% colour retention for up to 30 washes.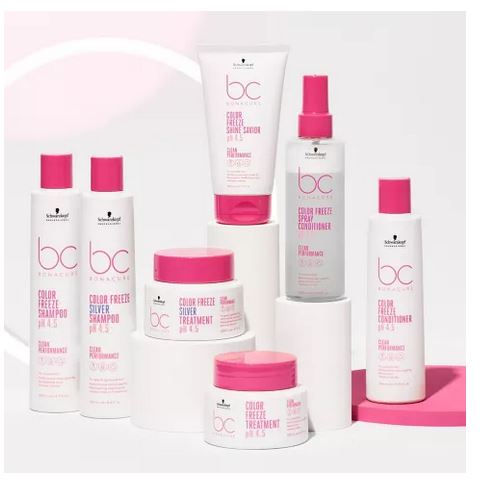 More Information

| | |
| --- | --- |
| Brand | Schwarzkopf |