Tangle Angel PRO Detangling Brush - Chrome Pink [TGA47]
Antibacterial
Ex-Static™ Anti Static Strip
Heat Resistant (to 120 degrees C)
Water-Resistant
Memory-Flex™ Bristles
Ergonomic design
Size: 200mm
Combining the very best of a brush with the pros of a comb in a head-turning iridescent chrome finish, this is a thoroughly luxurious detangling tool.
Scientifically developed blade-shaped bristles help the Pro glide through even the most challenging tangles, and massage the scalp as you brush – bliss.
No matter how long or thick your hair is, whether its enhanced with extensions, this brush excels at everyday combing – using it feels like a real treat.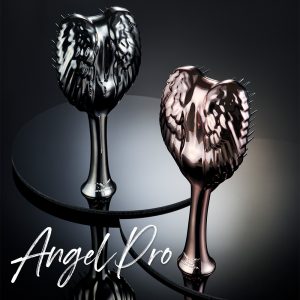 Features and benefits:
ANTIBACTERIAL
Specially developed antibacterial additives embedded in the plastic make your brush ultra-hygienic and safe to use.
ANTI STATIC
Anti static properties combined with a unique earthing strip that ensures contact when held, prevent flyaways leaving hair smooth and silky.
HEAT RESISTANT
Resistant up to 120 °C, bristles retain their shape even when used with the high temperatures generated by some hairdryers.
WATER RESISITANT
Ideal for using in the shower, by the pool or at the beach.
INNOVATIVE DESIGN
Not only stunning to look at but also easy to use and highly functional. Tangle Angel Pro can be held around the wings for greater control and feel, or by the handle for everyday combing and detangling.
More Information

| | |
| --- | --- |
| Brand | Tangle Angel |